Profile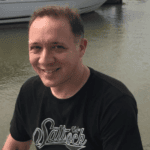 Andrew Singer
Curriculum Vitae
Education:

I grew up in Staten Island, New York, where I went to New Dorp High School. I got my first degree from the University of California Berkeley in 1992 and a few years later completed my PhD at the University of California Riverside in 2000.

Qualifications:

Bachelors of Art in Anthropology, 1992, PhD in Soil and Water Science, 2000

Work History:

I have worked at the NERC Centre for Ecology & Hydrology, UK for my entire career (17+ years!)

Current Job:

Senior Scientist at the Centre for Ecology & Hydrology, UK

Employer:
Favourite thing to do in my job: I love spending time reading science papers, thinking about how the world works and then testing my ideas with experiments!

About Me

16 year-old adolescent trapped in a 48 year old man with a fascination for the world and how it works.

Read more

I live with my wife, daughter and two rescue cats. I love to relax in the garden and binge-watch Netflix and Amazon Prime in my downtime. I visit my family and friends in New York and Los Angeles about once a year and enjoy travelling all over the world as part of my work. I play on a skittles team, like to play table tennis, and volunteer as an athletics coach at the local secondary school.

My Work

I'm an environmental scientist that researches: HOW we pollute our environment, the IMPACT and SOLUTIONS!

My Typical Day

Email, Twitter, Write, Chat w/Students (write = grants, papers, emails, conference abstracts)

Read more

My days are chock-a-block full with reading papers, working with PhD students on experiments, writing papers, sharing ideas on Twitter, looking for ways to support the next experiments I want to do and occasionally getting the chance to go out into the field and muck around in the river and collect soil, sediment or water for future analysis. Much of the every day can be spent working on the computer, however, but when I was a bit younger my days were spent in the laboratory doing that thing we lovingly call science. Being someone who enjoys chemistry and microbiology, I would try to fit as much of both into my day. This allows me to grow bacteria from soil, water or even plants on petri-plates, as well as analyse pollution or other chemicals using machines that go ping!

What I'd do with the prize money

I'd like to invite my colleagues at the Centre for Ecology & Hydrology to take part in a seminar series during Science Week which would be open to the public catering to different age groups.

My Interview

How would you describe yourself in 3 words?

Curious, Creative & Self-Motivated

What's the best thing you've done in your career?

Seeing my research used by the researchers, industry and governments to manage current and future pollution is HUGELY rewarding.

What or who inspired you to follow your career?

The freedom to explore and learn is key for me. My parents, university supervisor and my current job all allow me that freedom for which I'm very grateful (and fortunate).

What was your favourite subject at school?

My favourite subject changed almost every year. Sometimes it was architecture, ceramics, athletics, and even eventually it became biology (at the end of Secondary School)! But I think my favourite subject is a mixture of chemistry and microbiology.

What did you want to be after you left school?

I wanted to be a Primary school teacher!

Were you ever in trouble at school?

I definitely had subjects that I routinely struggled at; these included maths and physics. I wish I had help with these subjects as I'm sure I would have enjoyed them if I wasn't so scared of them!

If you weren't doing this job, what would you choose instead?

I would probably become a teacher. I love the challenge of communicating complex subjects in an accessible way to people who want to learn!

Who is your favourite singer or band?

I have so many bands I've loved over the years, ranging from Pink Floyd to modern bands like Kasabian.

What's your favourite food?

Is there really anything much better than a fab pizza? I think not. Though a warm Sticky Toffee Pudding is a close second.

What is the most fun thing you've done?

Skydiving. Yeah right...not! Actually, playing with my daughter on Snapchat can be hilarious.

If you had 3 wishes for yourself what would they be? - be honest!

I'd love to never have to ask funding bodies for money to support my research - perhaps just being very rich so that I can do any research I like. Oooohh, that would be great!

Tell us a joke.

A rat and a porcupine play basketball, who won? The porcupine, it had more points.
---
---