Profile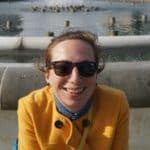 Helen Littler
On the bus to work trying to answer your science questions
Curriculum Vitae
Education:

Universities of Warwick (2004-7) and Southampton (2008)

Qualifications:

A BEng, a MSc and Chartered Civil Engineer!

Work History:

I spent two summers with a Railway Engineering firm before joining WSP

Current Job:

Senior Engineer

Employer:
Favourite thing to do in my job: Do hand sketches of ideas to make the world a better place

About Me

Vegetarian, cyclist.

Read more

I live in listed building in central Southampton with my three bikes. I am vegetarian, trying to learn to cook vegan food. I don't have a TV or netflix but I do love foreign dramas on catch-up.

My main hobby is hiking – I enjoy long walks with a local group with occasional trips abroad. In July we will be walking 130miles across Normandy to Mont Saint Michel. My plan is to eventually reach Santiago de Compostela in Spain where many pilgrims have walked to.

Other than walking/cycling holidays, I enjoy trips by train across Europe and I aspire to make it across Asia one day.

My Work

Senior Engineer leading projects to get people moving

Read more

Because of my love of sustainable travel, I specialise in designing infrastructure for cyclists and pedestrians.

Four days a week, I am based in my office leading the design on projects, writing reports explaining our decisions and handling the financial elements.

One day a week, I am out on site supervising construction of a cycle scheme – checking it is as per my design and redesigning bits where necessary.

Read more

In the office….

I cycle the 6 miles to work where I have porridge to warm up whilst checking my emails. I then identify what I need to do that day and what I need junior staff to do. I then brief staff on design work to be done such as designing an element like a crossing or drafting drawings. More complex elements I design myself sketching drawings or doing calculations. I check through work done by others before getting it approved by senior staff.

Throughout the day I discuss projects with clients, colleagues and contractors via phone and email to ensure everyone knows what is going on.

Out on site..

I have to get up early to be at site for 9am – my most hated part of my job. I take the train then a bus to get there a) because it is good for the environment and b) I can work on the train.

When I get to site, I check out what they've done and issues they have encountered. As the site is next to a busy road, I have to wear yellow jacket and trousers as well as boots, gloves and a hard hat.

What I'd do with the prize money

Public Science Outreach

Read more

I am involved with http://www.sciroom.org/ answering questions on science and engineering. This receives no funding at present so I would like to use the £500 to invest in resources so we can do more outreach.

My Interview

How would you describe yourself in 3 words?

Cyclist Nerd

What's the best thing you've done in your career?

I had to do a structural inspection during my summer placement which involved climbing on Paddington Station roof which was pretty cool.

What or who inspired you to follow your career?

I wanted to make a difference in the world so people like Balzagette and Stephenson inspired me because what they did changed people's health and travel respectively.

What was your favourite subject at school?

French

What did you want to be after you left school?

A Civil Engineer

Were you ever in trouble at school?

No way!

If you weren't doing this job, what would you choose instead?

A train driver

Who is your favourite singer or band?

Red Hot Chili Peppers

What's your favourite food?

Chocolate

What is the most fun thing you've done?

Travelling to Morocco by train and a ferry

If you had 3 wishes for yourself what would they be? - be honest!

I wished I had more annual leave, owned more bikes and could engineer food better

Tell us a joke.

Why do they only eat one egg for breakfast in France? Because in France, one egg is an Oeuf!
---
---